Cow Milking Machine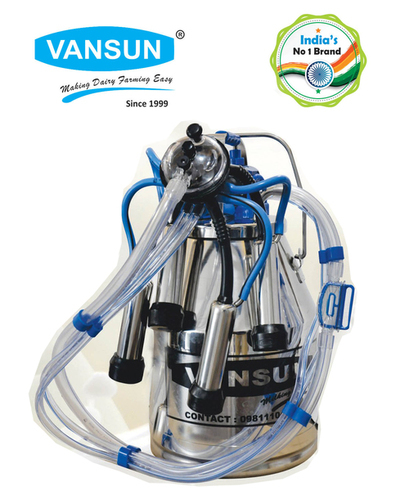 Cow Milking Machine
Price And Quantity
Product Specifications
Cow Milking Machine

Industrial
Stainless Steel

Dairy Milk Plant Machinery
Product Description
We are manufacturer of milking machines ,cow milking machine ,dairy milking machines From Noida,India. We are manufacturing and supplying milking machines ,cow milking machine ,dairy milking machines to our valuable clients all across india and majorly in north india cities like Agra,kanpur,Prayaraj,Noida,Delhi,Gurgaon,Greater noida, Panipat,patna,Ranchi ETC.We have a good infrastructure and quality process to provide good quality milking machines ,cow milking machine ,dairy milking machines .

A cow milking machine is a mechanical device designed to extract milk from cows quickly and efficiently. The machine typically consists of a vacuum pump, milk claws, pulsators, and a milk container or receiver.

To use the milking machine, the cow is brought into a designated milking stall or parlor and the machine is attached to her udder. The vacuum pump creates a vacuum that pulls the milk from the cow's udder and into the milk claws, which are connected to a receiver or container that collects the milk. The pulsators alternate the vacuum to mimic the natural sucking action of a calf, which helps to stimulate milk production and prevent damage to the udder.

Cow milking machines are used on dairy farms to save time and labor in the milking process, allowing farmers to milk more cows in less time. They also help to ensure a more consistent milking process, reducing the risk of contamination and improving milk quality. However, proper maintenance and cleaning of the machine is essential to prevent the spread of disease and maintain cow health.

Contact for best quality milking machines ,cow milking machine ,dairy milking machines .


FAQs : Cow Milking Machine
How do you clean a cow milking machine?
To clean a cow milking machine, it should be disassembled and washed thoroughly with hot water and a cleaning solution designed for milking equipment. All components should be scrubbed, rinsed, and sanitized before being reassembled.
Is it safe to use a cow milking machine?
Yes, using a properly maintained and cleaned cow milking machine is generally safe for both the cow and the operator. However, it's important to follow all safety guidelines and recommendations to avoid injury or damage to the machine.
How much does a cow milking machine cost?
The cost of a cow milking machine can vary widely depending on the size and complexity of the machine, as well as the specific features and functions it offers. Generally, prices can range from a few hundred to several thousand dollars.
Can cow milking machines be used for goats or other animals?
Some cow milking machines can be adapted or modified to work with other animals, such as goats or sheep. However, it's important to use a machine specifically designed for the type of animal being milked to ensure safe and efficient milking.
How long does it take to milk a cow with a milking machine?
Using a cow milking machine can significantly reduce the time required to milk a cow compared to manual milking. Depending on the size and efficiency of the machine, it typically takes around 5-7 minutes to milk a cow using a milking machine.
Trade Information
Cash Advance (CA), Cash in Advance (CID)

100 Per Week